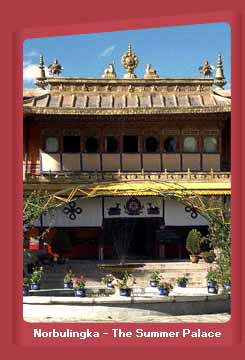 Norbulingka - The Summer Palace !
Norbulingka Palace, situated in the west side of Lhasa is just around a km southwest of Potala Palace. Norbulingka meaning 'Treasure Park' covers an area of around 360000 sq. m. and is considered to be the biggest man made garden in Tibet. You will be amazed to know that there are more than 370 rooms inside its premises. It is called summer palace because after the 7th Lama, Dalai Lamas used to visit here during summers to hold religious and government related activities. As a part of "Historic Ensemble of the Potala Palace", UNESCO added Norbulingka in its list of world heritage sites.
The Origin of the Norbulingka Palace Garden !
The area on which the palace stands today used to be a wasteland full of weeds and wild animals. The 7th Dalai Lama often visited the place and spend his time here. Seeing this the Qing magistrate ordered for a palace to be built in the garden. The construction of the palace started in the 1740s and named the garden Norbulingka. In 1751, the 7th Dalai Lama himself started the construction of his own palace called Kelsang Potrang inside Norbulingka itself. In its life span of more than 200 years, Norbulingka has seen a lot of construction on it. The 8th Dalai Lama built a lake and a group of buildings called C. Each Dalai Lama had a building built for himself and named them.
What to See and Do !
Norbulingka Garden is dotted with many palaces built by different Dalai Lamas who came after the 7th Dalai Lama and spend time here in the summers. Each Palace here is divided into three sections, worth to see as. The first palace that came up in Norbulingka was Kelsang Potrang, which is a perfect example of yellow hat architecture. Built by the 7th Dalai Lama, this is 3 floor building which has bedrooms, reading rooms, worship halls and a sanctuary as well. The next one built by the 8th Dalai Lama named Tyoksil Potrang is the palace that will mesmerize you the most as it is known for its architectural splendor. The garden, over the years has become a great picnic spot for the locales and an absolute gem for theaters performances and also for holding dance and music festival, especially the Sho Dun Festival. Come and join the scores of people who come here days before and set up a camp to enjoy the peak of summers, which is an absolute pleasure.
Want to Know More !
Norbulingka garden opens for general public everyday at 9 in the morning till 12 noon. It again reopens at 3.pm and closes just an hour after at 4 in the evening. Since this is just few kilometers away from Portala Palace, reaching here is not a problem at all, as almost all public transport that goes to Potala Palace, also comes to Norbulingka. It takes one full day to cover all the palaces and gardens in this resplendent park. You can spend your entire day along with your family as the kids love its vast green lawns arrayed with colorful flowers.
Coming to Norbulingka is nothing less than a perfect excursion in the lap of nature. In this beautiful and serene environment, brimming with the fragrance of fresh flowers, dotted with magnificent historical palaces, each one of you has something to look forward to.