4 NIGHTS / 5 DAYS ( FLY IN / FLY OUT) Tour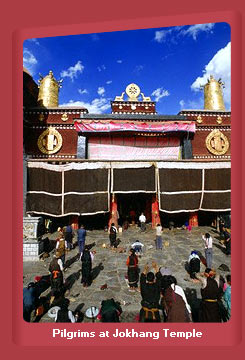 Day 01: Kathmandu/Lhasa ( By Flight)
Morning you will fly for about an hour over the panoramic Himalayan Ranges to the capital of Tibet. "Lhasa" .
Lhasa
at an altitude of 3,650 mt, is situated on the north bank of
Kyichu River
. Lhasa in Tibetan means
"Place of the Gods"
, the residence of the Dalai Lama., On arrival you will be met by the local representative and transferred to your respective hotel. (60 km/ 1 hr). Full rest in the afternoon to acclimatize. Overnight at hotel in Lhasa .
Day 02: Lhasa
After breakfast proceed for full day sightseeing of
Potala Palace, Ramoche Monastery and & Norbulinka. Potala Palace
, this legendary palace built atop a single hill is synonymous with Tibet by the first foremost king Songtsen Gompa.
Norbulingka
meaning 'Treasure Park' covers an area of around 360000 sq. m. and is considered to be the biggest man made garden in Tibet. After sight seeing you will be transferred to hotel for your Overnight at hotel in Lhasa.
Day 03: Lhasa
After breakfast full day sightseeing of
Sera Monastery, Jokhang Monastery, Barkhor Market. Sera Monastery,
5 Kms north of Lhasa, Sera setting is one of Lhasa's prettiest monasteries. Once a community of more than 5,000 monks resided here and was virtually extinguished by the Chinese.
Jokhang Temple
, situated in the heart of Old Lhasa, it houses Tibet's most precious religious relic, a golden Shakyamuni Buddha which was brought as a gift by the Chinese Princess Wen Cheng on the occasion of her wedding to the Tibetan King, Songtsen Gompo.
Barkhor Market place
, which is the religious and social focus of Lhasa. After Sight seeing you will be transferred to hotel for your Overnight at hotel in Lhasa.
Day 04 : Lhasa
After breakfast, visit
Tibetan Medical Institute
. Afternoon free. Overnight at hotel in Lhasa.
Day 05: Lhasa/Kathmandu (By Flight)
Transfer to airport to connect return flight.
Tour Cost: (In US$, nett payable to us & remain valid until 31 December 2011) Rates are on twin sharing basis except for 01 pax which is on single occupancy.
Tour Cost
Hotel Category
1 pax
2-3 pax
4-6 pax
7-9 pax
10-19 pax
20 & above
Single supplement
Budget
850.00
594.00
514.00
488.00
462.00
444.00
80.00
Standard
925.00
636.00
551.00
530.00
502.00
482.00
118.00
First Class
1444.00
882.00
808.00
786.00
760.00
744.00
380.00
Extra cost of Airfare (Economy class / Subject to change) :-
USD 864.00 Per person for KTM / LXA / KTM round-trip.
USD.448.00 Per person for KTM / LXA one-way.
USD 426.00.Per person for LXA / KTM one-way.

Cost Excludes:-
Airfare (given above separately)
Chinese visa fee (In US$ /subject to change and to be paid directly in Kathmandu) :


| | | | |
| --- | --- | --- | --- |
| Nationality | Normal Fee | Urgent Fee | Top Urgent Fee |
| USA | 166.00 | 182.00 | 209.00 |
| Romanian | 93.00 | 106.00 | 112.00 |
| Serbian | 81.00 | 93.00 | 107.00 |
| Other Nationals | 70.00 | 86.00 | 107.00 |

Nepal Airport departure Tax & Nepal re-entry visa fee.
Expenses of a private nature such as Lunch, Dinner, photography, telephone, beverages, tips etc.
Travel Insurance or any loss or extra cost arising due to unforeseen circumstances such as flight delays, or cancellations due to weather or technical problem, accidents, road blockage due to landslides or snowfalls etc.
Hotels to be used or similar
City
Budget Hotels
Standard Hotels
First Class Hotels
Lhasa
Hotel Flora
Shangbala Hotel / Kailash Hotel / Yak Hotel
Lhasa Hotel/Mansarovar Hotel

Kindly Note
In order to avail Tibetan Permit, client has to stay minimum 03 nights in Kathmandu if the client is entering Tibet via Kathmandu.
Booking Conditions: At least 4 weeks prior to your tour, full passport details of the pax i.e. FAMILY NAME / GIVEN NAME / SEX/ NATIONALITY/DATE OF BIRTH/PASSPORT NO OCCUPATION/PASSPORT VALIDITY should reach us. We also need a copy of the passport. Kindly note that the client's passport must be valid for at least 06 months from the date of entry in Tibet and the passport must be an ordinary one ( NO OFFICIAL AND DIPLOMATIC).
Chinese Viasa: Upon receipt of your full passport details, we will process and apply for Tibet permit and Chinese visa. We require the passport of all the clients upon arrival in Kathmandu. Chinese visa obtained in other countries is not valid for entering Tibet via Nepal. Hence one must obtain the Chinese visa locally here in Kathmandu which is issued as GROUP VISA on a sheet of paper. Chinese embassy gives visa only on Mondays / Wednesdays / Fridays in Kathmandu. Please note that visa regulations for Tibet are subject to change.
We are unable to process Chinese visa for those travelling with official or diplomatic passport. Hence clients must travel with an ordinary passport.
Tibet Travel Permit : Once we get the passport details of the pax, we will obtain Tibet Travel permit from Lhasa. FYI this is a must document to travel to Tibet as pax will not be allowed to enter Tibet without Tibet Travel permit despite. We take care of all the needful to obtain Tibet Travel permit prior to Client's arrival in Nepal
Sightseeing places and order of tours are subject to change as per weather, road condition and approval by the local authorities.
Flights: Air China is the only airline operating flight between Kathmandu and Lhasa. Below is the its present schedule: April to October: 04 flights a week (SUN / TUE / THU / SAT). November to March: 03 flights a week (TUE/SAT/SUN).
| | | | |
| --- | --- | --- | --- |
| KTM / LXA | CA 408 | 1145 | 1520 |
| LXA / KTM | CA 407 | 1140 | 1040 |
Schedule of Air China is subject to change without prior notice


........ Our Other Tour Packages ........